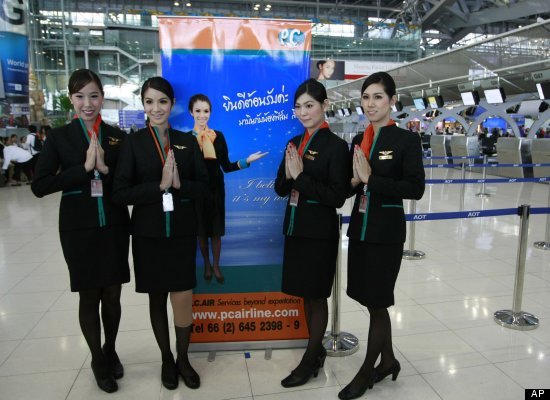 Transgendered Flight Attendants with PC Air
A new Thai airline,
PC Air
,
has hired nine transgender flight attendants
. In Thailand, men living as women, with or without sex reassignment surgery, appear to face less social and economic discrimination than in other countries. While Chaz Bono's
appearance on Dancing With the Stars
in the US was debated throughout the media, 'ladyboys' or 'kathoeys' as the estimated 500,000 transgendered male-to-female individuals are called in Thailand, have their own beauty pageants (see
the Miss Tiffany Beauty Pageant)
. It's true that some transgendered individuals have found lucrative
careers in fashion
in the West, mainly in haute couture, but models in this niche industry do not deal day-to-day with a cross section of the public as do flights attendants. And while
Pakistan
and
Nepal
have legalized third gender roles, these individuals do not have the same visability as international airline employees - nor was the significance of legalizing these roles in Pakistan and Nepal launched with a
publicity campaign
! Do you think the name of this carrier - 'PC Air' - stands for 'politically correct'?
Related links:
Designer's Choice: Transexual Models
"Officially" Transgendered
Pakistan: Third Gender Legalized