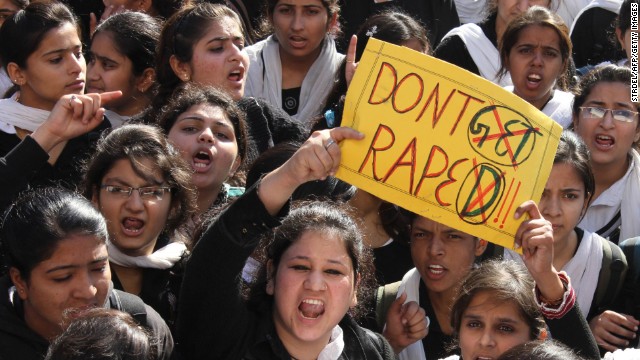 In a report published in
the Lancet about why men rape,
some disturbing and other not so surprising characteristics of men who sexually abuse women was revealed. The authors conducted surveys in Bangladesh, China, Cambodia, Indonesia, Papua New Guinea and Sri Lanka. Conducted by the Partners for Prevention, 10,178 men were questioned about their lives. The word 'rape' was never used, but the men were instead asked if they had ever forced sex upon a woman.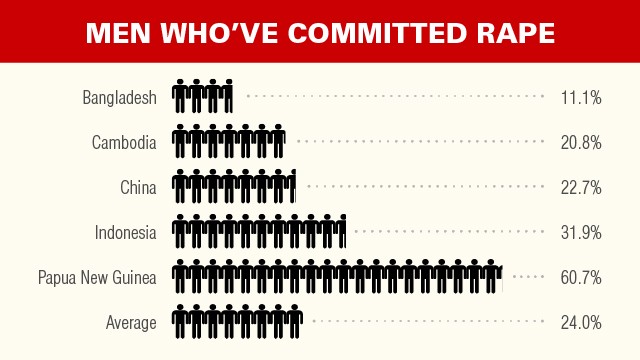 In the Lancet study, the majority of men who raped started in their teens, were unmarried, had low levels of education, were victimized as children, and were raised without a father present. Moreover, these men gave as their primary reason for rape a "sense of entitlement" (73%), followed by a search for "entertainment" (58%).
Gender inequality creates an environment where gender violence and male entitlement thrive, particularly in poor countries. The graph above shows that PNG has twice the number of rapists as the next closest country. In August,
Medicins sans Frontieres stated that 70% of women in this country will be physically assaulted in their lifetime.
Some estimates are even higher. Moreover,
"PNG ranks 134 out of 148 countries in the 2012 UNDP Gender Inequality Index, and 156 out of 186 in the Human Development Index - the lowest in the Pacific."
While this week
Indian courts sentenced to death four men convicted of gang raping a New Delhi woman last December
, other women - and girls - continue to suffer, and also sometimes die, as result of cultural and political norms. Recently,
a Dubai news agency reported that an eight-year old bride
died as a result of vaginal tearing after sex with her 40 year-old husband. Indeed, the World Health Organization reports that
39,000 girls under 18 are married everyday.
Many of these marriages are the result of poverty, but that cannot excuse a warped sense of male privilege that robs women of their dignity and their lives.