I have three words, 'watch this trailer.' Then - this is important -
go see the movie
.
The Interrupters
is a documentary about the efforts of
CeaseFire
to stop the violence on Chicago's streets by enlisting the aid of people from the community. The movie was directed and produced by Steve James, director of "Hoop Dreams" and produced by Alex Kotlowitz, writer and author of
There Are No Children Here
who first wrote about
CeaseFire
for the
New York Times Magazine
in 2009. CeaseFire's founder and executive director is Dr. Gary Slutkin, an epidemiologist for almost 30 years who began his work on the U.S. violence epidemic in 1995.
With histories similar to those of the people they are trying to help - associations with gangs, familiarity with jail, drugs and interpersonal violence - the interrupters go to street corners, they go door-to-door, they speak with authority in a voice that cuts through the anger, they tell people who feel invisible that they are worth something, that they can change. As reported by
Amy Lee of the Huffington Post,
Tio Hardiman, the Director of CeaseFire Illinois and a former drug addict and hustler, remembers early skepticism from whose who questioned whether such an organization could possibly make a difference. "You got to talk as if, 'Man, I know, I been there," he says of the interrupters. "Save yourself brother -- I'm not preaching to you."
Click here to read the Amy Lee's review, "The Interrupters:" Documentary Deals with Violence on the Streets of Chicago.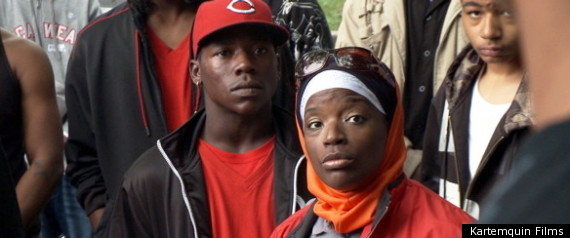 The "interrupters"